You are currently browsing the monthly archive for September 2015.
They're homing in on the gigantic Thwaites Glacier, which is bigger than Pennsylvania.
Source: Scientists declare an "urgent" mission – study West Antarctica, and fast – The Washington Post
Burning all of the world's reserves of fossil fuels such as coal, oil and gas could heat up the Earth enough to melt the entirety of Antarctica, driving sea levels catastrophically high, a new study warns.
Source: Burning all fossil fuels would melt all of Antarctica – study — RT News
While Tony Abbott said there would be few things more damaging to our future than leaving coal in the ground, if the world did burn all fossil fuel resources we now know you can say goodbye to the Antarctic ice sheet and a large chunk of coastline.
Source: If we burned all fossil fuels, would any of Antarctica's ice survive? | Business Spectator
Burning all the world's coal, oil and natural gas would lead to temperature increases that would melt Antarctica's ice sheet and raise sea level more than 200 feet, a new study found.
Source: Study Predicts Antarctica Ice Melt if All Fossil Fuels Are Burned – The New York Times
Everyone –
I take great pride relaying the news that Oceanites has officially been invited as an independent, NGO observer to the meetings of the Commission for the Conservation of Antarctic Marine Living Resources (CCAMLR) and its Scientific Committee. This year's meetings take place October 19-30 in Hobart, Tasmania, Australia.
Our goal is to assist as much as possible as CCAMLR addresses whether krill fishing, climate change, and/or other factors may be impacting Antarctic penguin populations. Over 21 seasons, Oceanites' Antarctic Site Inventory has made 1,561 site visits and collected data at 208 locations across the entire Antarctic Peninsula, and our database will necessarily help sort the krill-penguin 'puzzle' in this vastly warming region. The Antarctic Site Inventory's 22nd Antarctic field season begins this November.
Oceanites is dedicated to making a serious contribution to CCAMLR and, on behalf of everyone who's assisted our greater-than-two-decades-old monitoring effort, I'm very much honored by this invitation to Oceanites and the Antarctic Site Inventory to be so directly involved.
Ron Naveen, Founder/President, Oceanites; Principal investigator, Antarctic Site Inventory
.

Cape Town, South Africa – The African penguin, commonly referred as the black-footed penguin is at risk of extinction. Since 2004, the population has decreased by 90% along South Africa's west coast due to the mass migration of anchovies and sardines, which are their primary food source.
Source: Altered food distribution mainly causes African penguins extinction – Pulse Headlines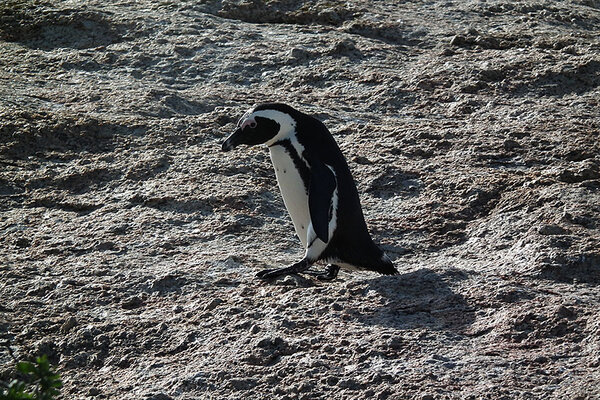 Overfishing is likely one of the causes of the sharp decline in penguins near Cape Town, South Africa.
Source: Are your anchovies killing Africa's penguins? – CSMonitor.com